Assistive Technology
Compusult promotes equal opportunities by providing adaptive solutions to individuals with various disabilities. Our assistive technology products, services and training opportunities offer individuals the ability to more actively and effectively participate in home, work, educational and social situations.
Our products are sold nationally and internationally, primarily in the United States, Canada and the Pacific Rim. Our solutions allow organizations to economically and reliably create accessible workplaces for employees with disabilities. Compusult's team of AT product specialists and trainers are ready to help you find the products you need and support you in using them effectively.
Our Main Products
Compusult is an authorized distributor of many assistive technology products and can locate additional items based on your requirements. If you have any further questions about our products or services, please call us toll free at 1-888-745-7914 (Canada and USA Only) or +1 (709) 745-7914 and talk to our AT team.

News and Events
News and Events
News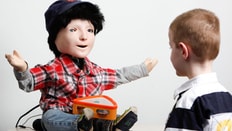 Compusult has signed a license agreement with the University of Hertfordshire to bring you Kaspar the social robot.
Kaspar is a child-sized humanoid robot designed as a social companion to improve the lives of children with autism and other communication difficulties. Kaspar helps teachers and parents support children with autism to overcome the challenges they face in socialising and communicating with others.
Compusult is redesigning and reengineering the Kaspar prototype into an advanced, robust and commercially viable robot that can be made available to any child around the world that needs it.
---