Mobile Solutions
AAC Software and Accessories for your iPad or Select Android Device
Outspoken Communicator Mobile System with Proloquo2Go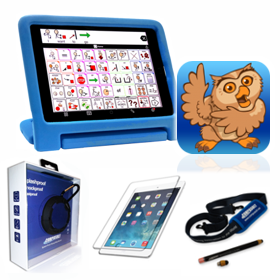 Compusult's Outspoken Communicator Mobile System is a high-quality portable Augmentative and Alternative Communication (AAC) solution. It includes the Proloquo2Go AAC software pre-installed on an iPad, as well as optional accessories.
Proloquo2Go is an Assistiveware product and Assistiveware Trademark. It is a communication solution for any child or adult who can operate an iPad or select Android device. Proloquo2Go is a cost effective tool for special education and AAC specialists to enjoy the ease of programming and customization.
Please note Proloquo2Go is only for iPad.
Features:
A complete communication solution with a beginning vocabulary of over 7000 words and phrases.
Includes natural-sounding Text-To-Speech (TTS) male and female voices from Acapela Group (U.S or British English only at present).
Lets you use symbol, photo and text-based communication tools:

Symbol-based communication employs almost 8000 built-in symbols from SymbolStix LLC. Speech items are organized into categories with the option for grid or list views. You can easily add new speech items and categories with a one-button operation.
Text-based communication allows you to type full sentences and paragraphs and includes options for automatic conjugation of verbs, pluralizations, and possessives.
Photo-based communication lets you use digital images instead of symbols and attach the text you want to each one.
The history feature provides quick access to items spoken in the last 15 minutes, last hour, today, yesterday, etc., up to one week in the past.
Proloquo2Go includes 2 vocabularies: AssistiveWare's free built-in Crescendo™ core word vocabulary and Gateway to Language & Learning©, available through an in-app purchase.
Access to 4,750 unique words out of the box and another 7,250 pre-categorized words in storage
Proloquo2Go and the Crescendo™ vocabulary are available in English and Spanish, with support for bilingual use it allows to instantly switch between languages at any time.
Includes over 45 natural-sounding TTS voices, 10 of them genuine children's voices, in English (USA, UK, Australian, Scotland and India) and Spanish (North American and Spain).
Please Note:
Discount pricing may be available with the purchase of multiple items.
For more information about the Outspoken Communicator Mobile System with Proloquo2Go, please contact us by calling toll free at 1 888 745 7914 (Canada and USA only), +1 709 745 7914 or email at@compusult.com

Other Mobile Options
Other Mobile Options
Comprehensive AAC solution that allows a user to increase vocabulary, store commonly used words and phrases and use symbols and/or text-based functions. Please note Proloquo2Go is only for iPad.
---
Comprehensive Text-based AAC solution with options to store phrases and translate handwriting.
---
A text-based AAC solution with word prediction and storage of phrases.
---
A symbol-based AAC solution that helps users to continuously build vocabulary and communication skills.
---
An AAC solution that empowers individuals who aren't able to speak (or who have limited speech) to say what they want or feel via the app's recorded voice.
---
A full-featured AAC solution for individuals who have difficulty using their natural voice.