Speech-Enabled Event Imaging Technology
Responder integrates machine vision and speech technologies to provide an automated monitoring and event notification system for workplace and industrial installations.
Responder is a machine-vision-based automated monitoring system that provides a continuous watch on electronic equipment, such as alarm panels, and provides notification via speech output or other optional means. Responder "watches" your existing equipment, such as banks of alarm panels, 24 hours per day, 7 days per week. When an event occurs, such as a specific type of alarm takes place, Responder provides corresponding event notification using recorded and/or synthetic speech over loudspeakers, public address systems and/or telephone systems and modems. Responder also maintains a complete log of all events, which aids in verifying operational status of the equipment being monitored.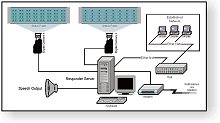 The entire system is unobtrusive. It requires no modification of, access to, or contact with, existing alarm panels.

Responder can react to various types of events, including light and sound indicators, alphanumeric digital displays and analog or digital output from other systems. Responder systems can handle simple to complex equipment monitoring requirements and can be configured to meet a facility's specific needs. Multiple Responder systems can be deployed, if required, to handle demanding environments. However, you pay for only the Responder configuration you need to meet your current requirements. Additionally, you can easily expand your Responder installation at any time as new needs arise or to accommodate monitoring of additional third-party equipment that may be installed.

Responder is a proven assistive technology solution for facilities employing blind and visually impaired workers. Responder systems are currently installed in medical centers across the United States where they provide speech output of all alarm events so that blind employees can independently acknowledge and respond to these situations as a routine but critical part of their work.
Features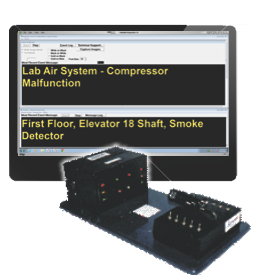 Continuously monitors your existing equipment.
Enables blind and visually impaired employees to work in security and monitoring environments.
Economical to own and maintain.
Unobtrusive installation and integration with current facilities.
Highly scalable to meet current and future requirements.
Configurations
Responder M1
The standard Responder system, consisting of a single computer and from 1 to 3 monochrome (black & white) digital cameras. The Responder M1 provides speech enabled automated monitoring suitable for most environments where notification is required only for on/off type alarms and/or events.
Responder C1
This is the colour Responder system, which offers the same capabilities as the M1, plus it can provide notification of alarms and/or events by differentiating between colours (e.g., green, yellow, red situations).
We also provide combinations of Responder M1 and C1 systems networked together to provide a complete automated monitoring solution for even the most demanding situations.
System Requirements
Responder runs on IBM-compatible PC running Windows NT 4.0, Service Pack 4.
Related Products
Related Products

Jouse3™ operates using the USB interface and protocols. Just plug it in, and Jouse3 will configure itself to work with your particular computer. It couldn't be easier!

Scotty Laptop wheelchair tray system is a versatile collection of attachment hardware, connectors, supporting links and work surfaces for many uses.

These systems are used in a variety of environments where it is more convenient to have the closed captioning displayed outside of the normal on-screen viewing area.