Mobile Accessory Bundle
Custom accessory bundles for the iPad mini 4, Ipad Air/Air2, iPad 9.7", or iPad Pro 9.7"
Mobile Accessory Bundle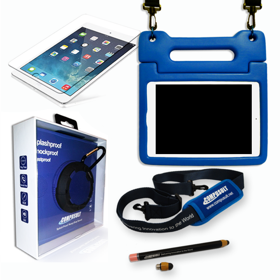 Compusult's Mobile Accessory Bundle comes with a variety of accessories for your iPad. Each bundle includes an EVA2 protective case for the iPad mini 4, iPad Air/Air2, iPad 9.7", or iPad Pro 9.7", Compusult's tempered glass screen protector, an optional carrying strap, an ergonomic metal stylus, and the iGo Bluetooth wireless portable speaker. Please note this bundle includes accessories only, iPad not included.
Compusult's EVA2 Case
Compusult's new and improved EVA2 is an easy-to-hold, foam-based case that protects your iPad from accidental drops and tumbles. It features even better protection and stability, a built-in convertible stand that doubles as a handle, a stylus storage slot and cut-outs for attaching Compusult's EVA2 carrying strap.
Compusult's iGo Bluetooth wireless speaker
Compusult's iGo Bluetooth wireless speaker is a perfect pairing for any mobile device running AAC apps. iGo's portable, splashproof design provides excellent power and clarity, ensuring you are heard when communicating through any AAC app for iPad, Android and Windows. It features five hours of continuous play time, allows for hands-free calling, has a powerful five watt speaker and a special acoustic design that lets air compress and expand to release sound energy. It also has a built-in carabiner clip, microphone and microSD card slot.
This bundle can also be configured with any or all of the following accessory options upon request. Choose the solution that works best for you.
Download Brochure
Buy on Amazon

Buy on Shopify
EVA2 Protective Case
EVA2 Protective Case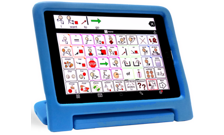 The EVA2 protective case is a sleek and appealing shield for your device. This soft, easy to hold foam-based case is simple to carry and protects the iPad, iPad Air or iPad mini from drops and tumbles.
Learn More
Buy on Amazon

Buy on Shopify