Mobile Solutions
AAC Software and Accessories for your iPad or Select Android Device
Outspoken Communicator Mobile System with Assistive Express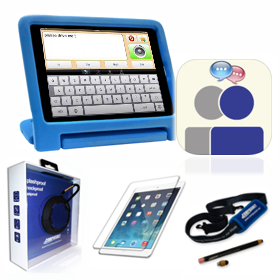 Compusult's Outspoken Communicator Mobile System is a high-quality portable Augmentative and Alternative (AAC) solution. It includes the Assistive Express AAC software pre-installed on an iPad or select Android device, as well as optional accessories.
Assistive Express from Assistive Apps is another cost-effective solution for individuals with speech disabilities. It's simple and efficient, and lets you communicate quickly with natural sounding voices. It incorporates Word Prediction to minimize keystrokes, and a favourites list saving your most commonly used sentences. With three voices to choose from, Assistive Express is a flexible and useful communication tool.
Features:
Landscape and Portrait Modes to cater to different needs.
Word Prediction to minimize the keystrokes required.
Adaptive learning of new vocabulary into the word prediction list.
Favorites list for users to save commonly used sentences.
3 voices included for user to pick.
Adjustable volume and speed for voices.
Large font and buttons for easy access.
Recent list for quick access to previously spoken sentences.
Self-learning "next word" prediction.
*New* Favorites can be reordered.
*New* Share to Twitter, Facebook, Messages, Email etc.
*New* Font size is adjustable.
*New* Prediction can be enabled/disabled.
Assistive Express is currently only designed for the English Language.
Please Note:
Discount pricing may be available with the purchase of multiple items.
For more information about the Outspoken Communicator Mobile System with Assistive Express, please contact us by calling toll free at 1 888 745 7914 (Canada and USA only), +1 709 745 7914 or email at@compusult.com
Other Mobile Options
Other Mobile Options
Comprehensive AAC solution that allows a user to increase vocabulary, store commonly used words and phrases and use symbols and/or text-based functions.
Please note Proloquo2Go is only for iPad.
If you require a solution for an Android device, please contact Compusult for information about the other Outspoken Communicator Mobile systems we offer.
---
Comprehensive Text-based AAC solution with options to store phrases and translate handwriting.
---
A text-based AAC solution with word prediction and storage of phrases.
---
A symbol-based AAC solution that helps users to continuously build vocabulary and communication skills.
---
An AAC solution that empowers individuals who aren't able to speak (or who have limited speech) to say what they want or feel via the app's recorded voice.
---
A full-featured AAC solution for individuals who have difficulty using their natural voice.