Mobile Solutions
AAC Software and Accessories for your iPad or Select Android Device
Outspoken Communicator Mobile System with Predictable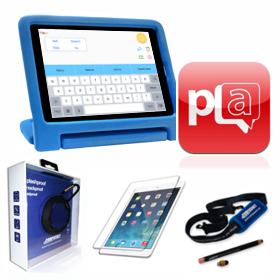 Compusult's Outspoken Communicator Mobile System is a high-quality portable Augmentative and Alternative Communication (AAC) solution. It includes the Predictable AAC software pre-installed on an iPad or select Android device, as well as optional accessories.
Predictable from TherapyBox is a cost-effective and unique communication aid for people with speech disabilities. With 40% larger keyboard keys and keyboard size, a 40% larger message window, and a 100% larger Speak button, Predictable lets you type messages more efficiently via a sophisticated word prediction engine, and then speak the messages using your choice of 9 Text-to-Speech (TTS) voices. New and improved features such as the ability to re-order phrases, one-touch voice output for stored phrases and increased space between the Speak and Clear buttons, ensure Predictable offers you an innovative and effective communication solution.

Features:
UK and US prediction engine featuring integrated intelligent self-learning of new words and contexts.
Accessible via Bluetooth switch box + switch/es (compatible with Therapy Box Switch Box and RJ Cooper Switch Interface).
Configurable scanning settings for auto scan or user scan.
Use the whole screen as a switch with scanning mode (Touch Anywhere access method).
Choice of 9 voices (4 US, 3 British and 2 Australian voices).
Easy to use category folders to store quick phrases or prepared messages.
History view with access to last used phrases.

Ability to compose and send emails.

Ability to update Facebook status or send a Tweet*.

Ability to send an SMS.

Note pad option - hand write on the screen.
Emoticons - to add laughter, crying or whistling to your message.
Publish option for 1:1 discrete conversations.
Backup your phrases to your computer.
Please Note:
Discount pricing may be available with the purchase of multiple items.
For more information about the Outspoken Communicator Mobile System with Predictable, please contact us by calling toll free at 1 888 745 7914 (Canada and USA only), +1 709 745 7914 or email at@compusult.com.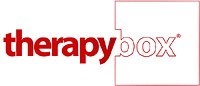 Other Mobile Options
Other Mobile Options
Comprehensive AAC solution that allows a user to increase vocabulary, store commonly used words and phrases and use symbols and/or text-based functions.
Please note Proloquo2Go is only for iPad.
If you require a solution for an Android device, please contact Compusult for information about the other Outspoken Communicator Mobile systems we offer.
---
Comprehensive Text-based AAC solution with options to store phrases and translate handwriting.
---
A text-based AAC solution with word prediction and storage of phrases.
---
A symbol-based AAC solution that helps users to continuously build vocabulary and communication skills.
---
An AAC solution that empowers individuals who aren't able to speak (or who have limited speech) to say what they want or feel via the app's recorded voice.
---
A full-featured AAC solution for individuals who have difficulty using their natural voice.