Mobile Solutions
AAC Software and Accessories for your iPad or Select Android Device
Outspoken Communicator Mobile System with Snap + Core First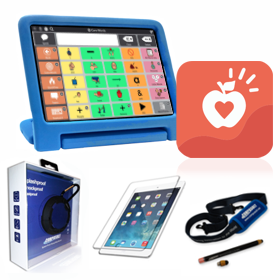 Compusult's Outspoken Communicator Mobile System is a high-quality portable Augmentative and Alternative Communication (AAC) solution. It includes the Snap + Core First AAC software pre-installed on an iPad or select Android device, as well as optional accessories.
Snap + Core First is a symbol-based communication software for symbol-supported communicators.It is designed to be the easy to use, most intuitive, and consistently arranged solution available on the market, for both the user and the communication partner. Snap + Core First is the ideal solution for individuals with Autism, CerebralPalsy, Downsyndrome, and Intellectual Disabilities..
Features:
Start communicating immediately - with tools and supports, like Core Words, Quick Phrases, and Topics, that allow a communicator to initiate and guide the interaction.
Created to be the best - with years of research, feedback, and user testing SLPs and educators, 9 out of 10 tested preferred Snap over competitor apps.
Built for confidence - with the easiest navigation, no instructions are necessary, and a toolbar is always available with tools to support you as you move through the system.
Designed for easy customization and consistency - with a new user interface for easy editing and grid size changes, standard functions for dragging and dropping, quicker actions for linking pages, and a new Search tool for finding words quickly.
A wide range of voices - A wide variety of Acapela voices are available as free downloads.
Free cloud-based storage - to backup and share your page sets on myTobiiDynavox.com.
Core Word framework, topics, quick phrases, behavior supports, word lists, and keyboards that let a user naturally engage with others.
Helps the communicator continuously build vocabulary and skills and takes advantage of motor learning by introducing new vocabulary systematically and purposefully, which allows users to move up or down and always know where to find vocabulary.
It is built on three pillars for communication success: growth, engagement, and literacy.
A comprehensive ecosystem of support
Access to a free ecosystem of content and a library of resources.
Please Note:
Discount pricing may be available with the purchase of multiple items.
For more information about the Outspoken Communicator Mobile System with Snap + Core First, please contact us by calling toll free at 1 888 745 7914 (Canada and USA only), +1 709 745 7914 or email at@compusult.com
Other Mobile Options
Other Mobile Options
Comprehensive AAC solution that allows a user to increase vocabulary, store commonly used words and phrases and use symbols and/or text-based functions.
Please note Proloquo2Go is only for iPad.
If you require a solution for an Android device, please contact Compusult for information about the other Outspoken Communicator Mobile systems we offer.
---
Comprehensive Text-based AAC solution with options to store phrases and translate handwriting.
---
A text-based AAC solution with word prediction and storage of phrases.
---
A symbol-based AAC solution that helps users to continuously build vocabulary and communication skills.
---
An AAC solution that empowers individuals who aren't able to speak (or who have limited speech) to say what they want or feel via the app's recorded voice.
---
A full-featured AAC solution for individuals who have difficulty using their natural voice.