Mobile Solutions
AAC Software and Accessories for your iPad or Select Android Device
Outspoken Communicator Mobile System with TouchChat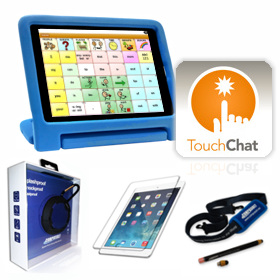 Compusult's Outspoken Communicator Mobile System is a high-quality portable Augmentative and Alternative Communication (AAC) solution. It includes the TouchChat AAC software pre-installed on an iPad or select Android device, as well as optional accessories.
TouchChat allows individuals who cannot speak to communicate by spelling or selecting icons from visual display. Words, phrases and messages are used with the built-in voice synthesizer or by playing back recorded messages.
Features:
Five synthesized voices to choose from, giving you the option to pick one to suit your personality.
Tilt the device to make the message fill the entire screen in large letters.
Ability to navigate through page sets and speak messages. Page sets are linked pages, are each are divided in to a number of buttons.
Ability to customize the TouchChat vocabulary.
Personalize existing pages and buttons.
Over 10,000 symbols included for customizing buttons.
Four Page Sets Included with TouchChat:
VocabPC - For adults and adolescents with developmental disabilities, and vocabulary is arranged as carrier phrases, interactive sentences, activity vocabulary and naming words.
MultiChat 15 - Created for school-aged individuals with emerging language skills and includes individual words, sentences and phrases.
Spelling - A QWERTY keyboard page set with four word prediction buttons and a few pre-stored phrases.
Primary - Designed for children and contains vocabulary for home, school and general communication.
Please Note:
Discount pricing may be available with the purchase of multiple items.
For more information about the Outspoken Communicator Mobile System with TouchChat, please contact us by calling toll free at 1 888 745 7914 (Canada and USA only), +1 709 745 7914 or email at@compusult.com
Other Mobile Options
Other Mobile Options
Comprehensive AAC solution that allows a user to increase vocabulary, store commonly used words and phrases and use symbols and/or text-based functions.
Please note Proloquo2Go is only for iPad.
If you require a solution for an Android device, please contact Compusult for information about the other Outspoken Communicator Mobile systems we offer.
---
Comprehensive Text-based AAC solution with options to store phrases and translate handwriting.
---
A text-based AAC solution with word prediction and storage of phrases.
---
A symbol-based AAC solution that helps users to continuously build vocabulary and communication skills.
---
An AAC solution that empowers individuals who aren't able to speak (or who have limited speech) to say what they want or feel via the app's recorded voice.
---
A full-featured AAC solution for individuals who have difficulty using their natural voice.