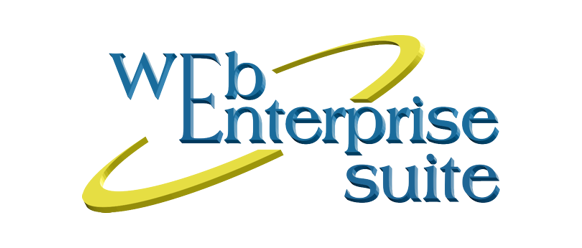 Geospatial and Data Management Solutions
Web Enterprise Suite
Web Enterprise Suite (WES) provides organizations with an environment where users have the capability to discover, view, assemble, analyze and share geospatial data, products and services for a particular area of interest, without needing to know the details of how the data and services are stored and maintained by independent data custodians and systems. Users are provided access, via a variety of easy-to-use intuitive interfaces that enable them to share information through a common, digital, geospatially referenced environment that enhances information management, exploitation, manipulation, storage and dissemination.
One of the primary goals of WES is to provide the sharing of data in diverse computing environments, where the support of multiple security domains can be difficult and challenging.
The WES infrastructure is based upon the utilization of international standards used within a cohesive Service Oriented Architecture (SOA) and provides users with situational awareness critical for the decision making process.
WES provides a complete geospatial data infrastructure system delivering the most comprehensive data management and decision support solution available. It is a complete, end-to-end system providing standards-based geospatial interoperability, publishing, data discovery, data management, data access, data analysis, user management and collaboration, all within a secure, industry-standard Web-based platform that includes integration with Mobile platforms.
WES provides a spatial data infrastructure designed to:
rapidly discover and access information, products and data;
easily publish/reference information, products and data into the WES infrastructure;
integrate new functionality;
provide connectivity to legacy/heritage systems;
enable visualization of information in a geospatial, data analysis presentation environment and temporal context;
provide new standards-based connectivity to geospatial data stores and systems; and,
work within the desktop or mobile environment.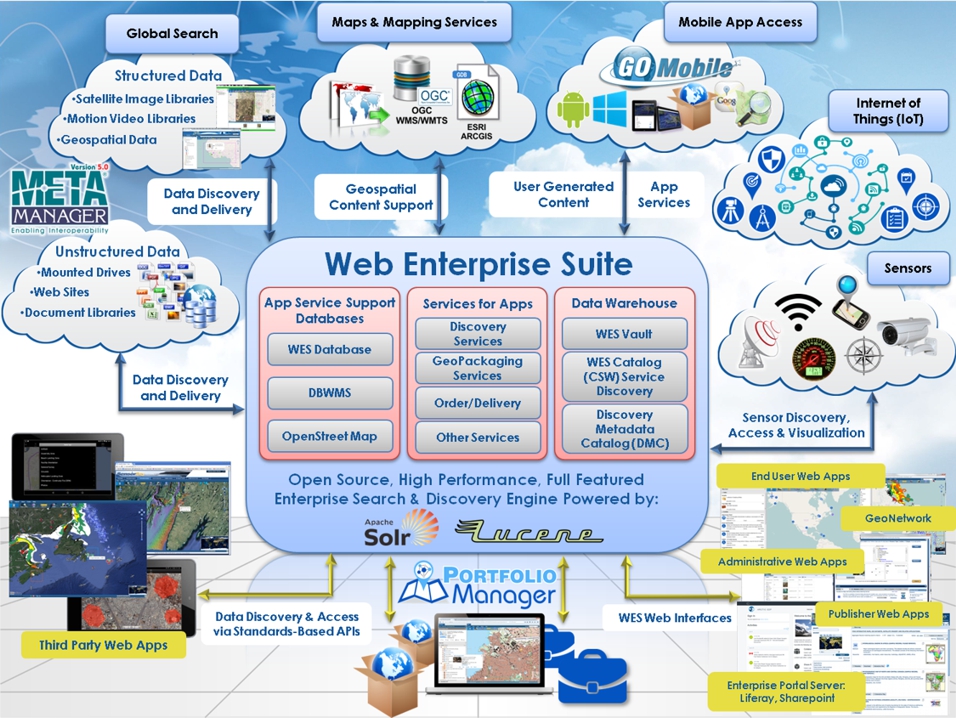 WES is an integrated suite composed of open source, standards-based applications and proprietary components that enable the expedient and efficient construction of spatial data infrastructures.
Disparate data sources can be transparently integrated into a coherent data publishing, analysis and retrieval portal, without having to reformat or restructure the data.
One-stop-shop for organizations needing to organize and manage geospatial/data assets.
High Level Diagram of WES Connectivity/Data access.
Web Enterprise Suite is comprised of over twenty main components, many of which are stand alone applications that have been specifically designed to be integrated with each other, other third party applications (clients/servers) and a wide variety of open source software.
Companion Products
Companion Products

GO Mobile is a mobile application for devices such as the iPhone, iPad, Android phones and Android-based tablets to easily access geospatial content and other data and services through secure wireless communications to the cloud.
GO Mobile also provides First Responders and users in-the-field with the ability to collect, distribute and share critical information to assist with Situational Awareness and the decision making process.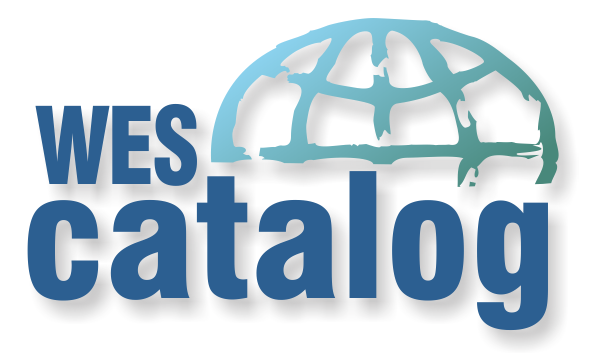 WES Catalog is an OGC-compliant ebXML integrated services registry and repository. The application provides comprehensive, standards-based, catalog creation and management modules enabling data and service discovery, publishing, access, and maintenance.
Easily manage metadata about services (e.g., WMS, WFS, WCS, etc.) and repository items (e.g., XML documents, text documents, images, sound, etc.) contained in the catalog.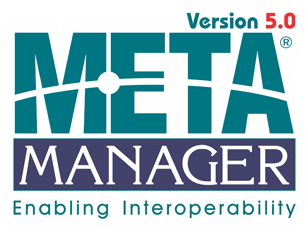 Meta Manager is an OGC-CSW/Open Search compliant metadata management tool. It will automatically extract metadata from relational databases, file systems, etc. and format the metadata according to a preferred metadata standard (NAP, DDMS, ISO 19115, etc.).
The solution is ideal for organizations that need to quickly and efficiently organize structured and unstructured data for discovery in access to corporate/agency portals and/or Open Data government portal environments.

The Sensor Hub software is a light weight solution that can be deployed on any device running Java whether in the field or a server room. The software is easily configurable from the "router like" HTML interface and allows for standardized access to a wide array of IoT Sensors.
Drivers which allow for communication with many different sensor systems already exist withing the software, including Grove, Z-Wave, and many others. Custom drivers can be uploaded using the interface, without requiring software updates to the Sensor Hub.